Best IELTS Coaching Institute in Zirakpur
First things first, you need to take IELTS, if
You're planning to study abroad!
You want to build your life abroad!
You're applying to a foreign company!
You want to have a career in an English-speaking country!
For all of the reasons mentioned above, IELTS is a compulsory exam that you have to take to immigrate to foreign countries where English is the primary language.
It's well justified because IELTS simply tests your English language proficiency so that you can be well adjusted in an English-speaking environment.
If you plan to make preparations for your upcoming IELTS exam, we strongly suggest including professional guidance in that plan of yours.
Some of the main benefits of taking professional coaching for IELTS are as follows:
Your preparations are more result-centric.
Professional coaching centers have been training students for years! This fact about their added-up experience has its own credibility!
Students can understand the exam more precisely.
Self preparations don't give you an advantage of proper time management like coaching institutes do.
If you are determined to score high in your IELTS exam, then you've got to get enrolled into Gratis Learning's IELTS coaching classes in Zirakpur.
Gratis Learning has been successfully helping out students and other IELTS aspirants to achieve their goals of going abroad. If you need the formula for success in IELTS, Gratis Learning is the best option for you.
Let me give you a summarized version of the criteria of a good IELTS coaching institute:
The location should be reachable.
The infrastructure should be up to date.
Availability of online IELTS classes.
IELTS Trainers should be experienced and qualified.
Course structure should be sufficient and easy to learn.
Batch size and timings should be flexible.
Trial classes should be arranged.
The fee structure should be reasonable.
Adequate mock tests for practice.
Now, Gratis Learning checks out with each of these criteria, which make us the best IELTS coaching center in Zirakpur:
| | |
| --- | --- |
| The location and the infrastructure | Gratis Learning is located near the national highway in Zirakpur and can be conveniently reached via public transport. The infrastructure is equipped with hi-tech online and offline-class facilities. |
| Online IELTS classes | Gratis Learning's online IELTS classes aim at preparing students for all the four modules of IELTS speaking, writing, listening, reading, and are easy to access from remote locations. |
| Trainers | Gratis Learning makes an extra effort in the selection procedure of IELTS trainers and ensures the teachers are highly experienced and qualified. |
| Course structure | Both online and offline courses follow a thoroughly revised course curriculum that is easy to learn. |
| Batch structure | Weekly and weekend classes are conducted in short batches and are flexible with class timings. |
| Trial classes | We emphasize taking our trial classes before signing up for the course. Our students get the idea of our teaching methods and get completely assured for their future classes. |
| Fee structure | Our course fee is very reasonable and student-friendly. When you come to Gratis Learning, you come in the best hands for IELTS coaching. Hence, be reassured of the quality of coaching classes. |
| Adequate mock tests | Mock tests are carefully planned around each student's individual performances. Tests are conducted in an exam-like environment. We make sure our students follow the same rules for online classes as well. |
Are you looking for the best IELTS coaching institute in Zirakpur?
Don't ponder much! Join Gratis Learning!
Do you know your IELTS??
Here is a quick summary of the IELTS exam:
IELTS is The International English Language Testing System. It is taken by the students to study or work where English is the language of communication and instruction.
It is a compulsory exam for admission into training programs and universities in the UK, Australia, New Zealand, and Canada.
It is often recognized by Professional bodies, government agencies, and immigration authorities in these countries.
Three organizations manage IELTS:
British Council
Australia IDP IELTS
Cambridge ESOL examination- the University of Cambridge.
British Council, IDP Australia, and the University of Cambridge ESOL are responsible for conducting the exam in designated centers.
The test is offered 4 times a month in 38 cities across India.
IELTS covers four basic language skills – listening, reading, writing, and speaking.  Gratis learning aims at preparing students for these four modules by making them understand the exam well.
Gratis Learning provides the best IELTS training in Zirakpur
Why you should take IELTS coaching at Gratis Learning?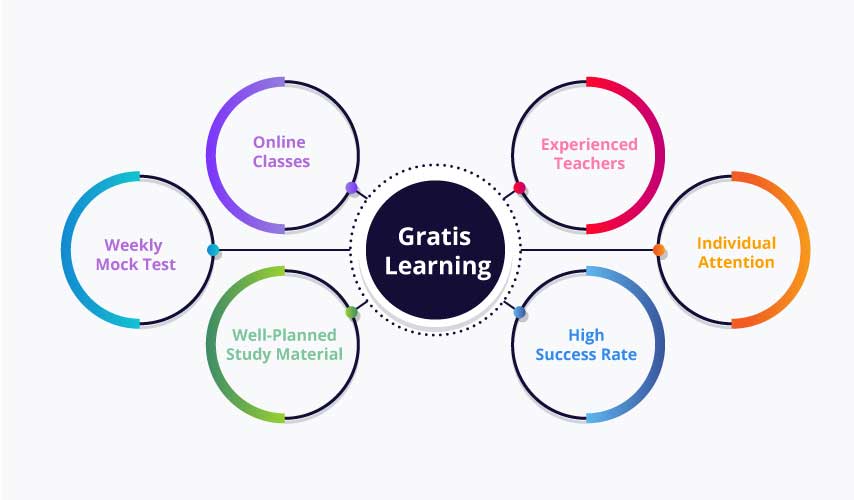 Our highly qualified trainers commence by first laying the essential foundation for beginner students with an ideal approach to teaching.
Our classroom sessions are interactive, competitive, and strictly by IELTS time constraints
We teach the most proficient method to crack IELTS via our strategically planned coursework.
We emphasize working with weak areas in all four modules by providing a friendly self-analyzing exercise to our students.
We have an ideal approach to teach each student individually and pay proper attention to their progress.
We create a motivational learning environment for student's confidence to boost up
We also provide career counselling and future guidance to our students to understand steps beyond qualifying IELTS.
Weekly mock tests for student's performance analysis and follow-up doubt sessions.
Extra special classes for revision and extra effort
Demo classes are arranged to get a clear picture of the course plan
We organize classes in short batches for better teaching and individual attention
Our weekend batches have flexible timings as per student's convenience
Highly reasonable fee structure
Our curriculum plan for IELTS coaching classes are designed around IELTS exam pattern and format:
IELTS Exam Pattern
The Listening, Reading, and Writing tests are done in one sitting. The Speaking test may be on the same day or up to seven days before or after the other tests.
| | |
| --- | --- |
| Test modules | Total duration= 2 hours 45 minutes |
| Reading | 60 |
| Listening | 40 |
| Writing | 60 |
| Speaking | 11-14 minutes |
IELTS format
There are two formats of IELTS: Academic and General Training.
Academic Training

General Training

It is for Institutions of Higher and Further Education.

The Academic format is related to admissions to undergraduate and postgraduate courses.

It is basically for school, work or migration.

The General Training format focuses on standard day-to-day skills in social and workplace areas. It is typically for those who are going to English-speaking countries to do secondary education, work experience, or training programs.
Gratis learning offers coaching for both Academic and General training formats. Students should choose the best suitable course for them as per their requirements.
Join Gratis Learning and get the best IELTS coaching in Zirakpur!
Take a look at the four main IELTS modules we will train you for:
IELTS Modules
Listening
Listening is identical for both general and academic modules.
It consists of four sections, 40 questions.
The first section is a conversation between two individual
The second is a monologue/speech.
The third section is a conversation among a maximum of four people set in an academic setting.
The final one is a monologue on an academic subject
Each section is heard only once.
Reading  
It is different in academic and general test modules.
It includes threesections, 40 questions.
Text passages are given to answer questions in multiple-choice, sentence completion, summary writing, matching information, short answers. The reading passages and questions are different in Academic and general modules.
Each passage consists of 13-14 questions.
The reading module has in total 40 questions.
Writing
The writing test module is different for academic and general tests.
Topics are of general interest and suitable for candidates planning undergraduate and postgraduate studies abroad or seeking professional registration.
It includes two tasks:
In Task I, you will be presented with a graph, table, chart, or diagram and asked to describe, summarize or explain the information in your own words.
In Task 2, you will be asked to write an essay in response to a point-of-view, argument, or problem.
Speaking
It is the same for academic and general test modules.
The tests are recorded for evaluation purposes and consist of three parts that simulate a face-to-face oral interview with an examiner.
It comprises a 3 part one-on-one conversation
In Part 1, questions are asked about oneself and a range of familiar topics, such as home, family, work, studies, and interests.It is 4-5 minutes long.
In Part 2, a card is given askingthe applicant to talk about a particular topic. One minute is given before speaking to prepare.
In Part 3, questions are asked related to part 3.
The Speaking component assesses the candidate's use of spoken English, which takes between 11 to 14 minutes to complete. The examiner records the entire speaking test.
IELTS Scoring
There are no criteria for pass or fail in IELTS. Applicants are graded on their performance using scores from 1 to 9 for each part of the test – Listening, Reading, Writing, and Speaking. The results from the four parts then produce an Overall Band Score.
IELTS scores are valid for two years.
This 9-band system consistently measures scores – wherever and whenever the test is taken. It is internationally recognized and understood.
IELTS 9-band scale
| | | |
| --- | --- | --- |
| Band score | Proficiency Level | Remarks |
| Band 0 | Not attempted | Provided information not assessable. |
| Band 1 | Non-user | Essentially cannot use the language beyond possibly a few isolated words. |
| Band 2 | Intermittent user | No real communication is possible except for the most basic information using isolated words or short formulae in familiar situations and to meet immediate needs. Has great difficulty understanding spoken and written English. |
| Band 3 | Extremely limited user | Conveys and understands the only general meaning in very familiar situations. Frequent breakdowns in communication occur. |
| Band 4 | Limited user | Basic competence is limited to familiar situations. Has frequent problems in understanding and expression. Is not able to use complex language. |
| Band 5 | Modest user | Has partial command of the language, coping with overall meaning in most situations, though is likely to make many mistakes. Should be able to handle basic communication in own field. |
| Band 6 | Competent user | Has generally effective command of the language despite some inaccuracies and misunderstandings. Can use and understand fairly complex language, particularly in familiar situations. |
| Band 7 | Good user | Has operational command of the language, though with occasional inaccuracies and misunderstandings in some situations. Generally handles complex language well and understands detailed reasoning. |
| Band 8 | Very good user | Has fully operational command of the language with only occasional unsystematic inaccuracies. Misunderstandings may occur in unfamiliar situations. Handles complex detailed argumentation well. |
| Band 9 | Expert user | Has fully operational command of the language: appropriate, accurate, and fluent with complete understanding. |
Most foreign institutions and organizations require 6 or above IELTS band scores. You can qualify IELTS with 6 bands; however, getting higher scores always works better for your future abroad.
Want to score above 7 bands?
Register for Gratis Learning's IELTS coaching classes today!
Prepare for IELTS from home with Gratis learning's IELTS coaching classes!
Interested in taking Online IELTS Classes?
Visit our official website and fill out the enquiry form.
For more details, don't hesitate to get in touch with us. We will be happy to help you!